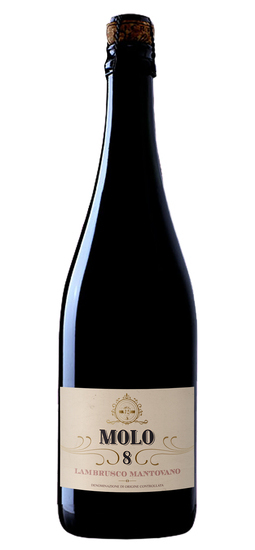 Lambrusco is the best-selling Italian wine in the world and is currently undergoing a renaissance as wine critics and consumers finally realize that, despite all its youthful charm and carefree exuberance, Lambrusco should be taken very seriously. When Gustinvest decided to include a quality-oriented Lambrusco, Molo 8, in its list, we chose a winery with a great history, founded in 1921, as a producer.
"Molo 8" was an ancient quay suspended on a lake from lost time. Legend has it that on this quay the local youth declared their love to the girls; the lake dried up, the pier on the mainland was rebuilt to keep the enchantment of love intact.
Grape Varieties:
100% Lambrusco (Lambrusco Maestri & Marani: 85%, Lambrusco Ancellotta: 15%)
Fermentation container:
Closure:
Vineyard location:
From the area of Mantova (Lombardy)
Soil composition:
Clay, sand, & silty terrain
Vine training:
Guyot, reversed double Guyot, Casarsa (spurtrained, similar to Sylvos, which is typical of Friuli), and free cordon trained
Altitude:
150 meters (492 feet) above sea level
Exposure:
Age of vines:
Time of harvest:
From late September to early November
Tasting notes:
Intense ruby red. The bouquet is persistent and fragrant with hints of black cherries and wild berries. On the palate the wine is aromatic, fruity and pleasantly sweet.
Food pairings:
Ideal for cheese, ham, salami, pork or cold cuts and most dishes.
Alcohol:
You may also like from
Molo 8
Sorry, no other wine for this producer.